Limited time sale: $695 $395
COURSE UPDATED for students taking
the exam starting August 28, 2019
Survey: New America Invents Act Exam Questions Give PatBar Students the Tools to Pass
Patent Office figures show that only four out of ten pass
The Institute for Patent Studies just completed a survey of new Patent Attorneys, and it was very revealing. It showed that about 80% of the questions on the exam are testing the America Invents Act (AIA). Also, new patent practitioners wish they'd had more practice with sample exam questions—especially AIA questions—suggesting they had been given the wrong materials to study. Customers who had bought the more expensive courses said they were overwhelmed with materials and received no guidance; customers who bought cheap courses complained that they received materials they'd already found online for free. Only PatBar Students received the correct materials, the proper guidance, and the best customer service.
Our graduates are employed by: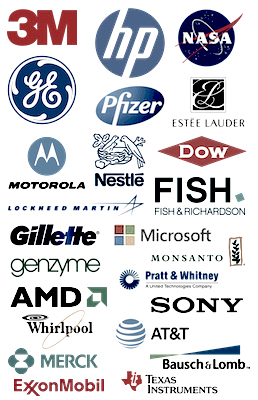 All Patent Bar questions now secret
Before the AIA came into effect, the Patent Office stopped releasing exam questions and started making all exam takers sign a non-disclosure agreement. Current exam questions simply aren't available to you, to us, or to any review course. Besides making it more difficult to know what's on the exam, the USPTO made it impossible to actually practice answering questions. PatBar understands from our work with thousands of successful alumni that practice is one of the most powerful ways you can study.
Passing is easy if you study correctly
Knowing what and how to study depends on understanding the mindset of the exam writers. PatBar students study correctly, so the exam will be easier than you might expect. You'll feel great walking out of the testing center with a Preliminary Pass printout in your hand. It means you can move on with your life and career. You will be allowed to represent inventors in dealing with the Patent Office and begin making more money than your peers. What will you do to celebrate when you pass the exam?
Study the Right Way—Calculate Price
Emphasis on the AIA is essential
PatBar is the original Patent Bar Review home study course, created in 1992 by a registered Patent Attorney. Over the past several years, PatBar has maintained its industry leadership by inventing a new strategy to deal with the difficulty facing current exam takers.
You start by watching the Beginner's Lecture series, which gives you a gentle introduction to intimidating material, with emphasis on the AIA.
You go at your own pace with modularized study sessions, and can complete the course quickly—or take as long as you need if you're also working or going to school.
Each module with new AIA material includes a summary that teaches you the mental framework to understand how the AIA fits in to the lecture.
After you study the material, each session includes AIA-based practice exam questions plus the same reference material that's available on the real exam, so you can perfect your lookup strategy.
Exclusive: only PatBar includes over 200 new AIA practice questions written by our program director and based on over 25 years of experience.
Our proprietary Exam Simulation Suite is the most accurate available, so you can learn to use the reference material, and also get used to the look and feel of the real exam.
You can ask for help any time to answer specific questions about the AIA, the Exam, the course, or anything else that's holding you back. No other course offers PatBar's expertise.
I passed! First, thank you for responding to my questions. I know of other programs where help is not so forthcoming. Second, the practice questions and exam software you provided made the difference. By the time I took the exam, I recognized some questions. Otherwise, I knew exactly where to look and which search terms to use.
Glad it's over! Now I can concentrate on finishing law school.
All the best,
Chuck
Getting started early is important
If you wait until you get approved to take the exam, you only have 90 days to study. This is enough time to fully prepare but, for most people, just barely. Sometimes real life gets in the way. You should start studying before you apply to take the exam. We guarantee that it is risk-free.
Get Started Right Now—Calculate Price
Use the only patent bar review course with a triple guarantee
If the Patent Office determines that you don't qualify during your 9-month subscription, you get a full refund.
If you take the exam and don't pass, you can use the course for another 9 months until you do pass.
You can get a full refund for any reason within 30 days.
If that's not enough, you have even less to worry about:
You can get started right now for free with our course demo—no credit card is required.
If you run out of time, you can always renew your subscription for 6 months for $195.
Less than the cost of 3 days of Law School—Calculate Price
About Us
PatBar® was established in 1992 by a registered, practicing Patent Attorney. It was the first company to offer a home-study course for the Patent Bar Exam. With over 25 years of experience in preparing students to succeed, we know exactly what needs to be updated and when—several times each year, when needed.
PatBar e-mail
director@patbar.com
Phone Number
1-800-392-6512
PatBar Address
PatBar
200 Stratford Ln #32
Middletown, NY 10940
USA
Questions of the Week
Delta Company filed a nonprovisional application sometime before September 16, 2012, and today, September 16, 2016, they now want to file a continuation application. What would be the best way to handle the oath or declaration?(A) File a copy of the oath or declaration from the prior application. (B) File a new oath or declaration… Read more »
Which of the following is true?(A) The Office may not consider a patent owner claim scope statement when deciding whether to order or institute an administrative trial proceeding such as an IPR. (B) A third party filing a statement can request in writing to maintain his/her identity in confidence, and it will be excluded from… Read more »
A company from England, AJAX, developed an invention including a surface treatment that was necessary to the satisfactory performance of the invention. In discussions with their legal staff relating to the filing of a patent application in the U.S., the company decided to maintain their surface treatment technology as a trade secret. On September 16,… Read more »
Which of the following is true?(A) The AIA defines the term "claimed invention" as the subject matter defined by a claim in a patent or an application for patent. (B) The AIA defines the term "effective filing date" for a claimed invention in a patent or application for patent (other than a reissue application or… Read more »